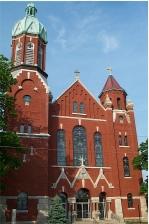 We would like to dedicate this web site to those who have gone before us, those who will follow us, and those today who strive to make this a holy and happy parish family.
COMMUNAL PENANCE SERVICE FOR SS. PETER AND PAUL AND ST. MARY ON WEDNESDAY, DECEMBER 13 AT SS. PETER AND PAUL BEGINNING AT 7:00 P.M.
WEEKDAY CONFESSIONS: Fr. Steve asked me to change the morning Confessions to BEFORE daily Mass from 7:30 – 7:50 am.
EUCHARISTIC ADORATION UPDATE:  Eucharistic Adoration will be cancelled on Friday December 22 & December 29 for the Christmas and New Year weekends.  Adoration will resume on Friday, January 5, at 6:00 a.m.
Weekly Reading Small Group here at St. Mary every Sunday evening from 6:30-7:30 p.m. Each week we delve deeper into the theology and background of the Sunday Mass readings and discuss how they apply to our lives today. All are welcome to attend. If you have any questions, contact Drew Stuart at drew.a.stuart@yahoo.com.
SAINT MARY FACEBOOK PAGE:  Well, we have started a Church Facebook page.  We are very, very new to all of this so please be patient.  When you go to Facebook search for Saint Mary Catholic Church and you should be able to see us.  As we learn more about how to use this we will post items there as well as here.  Any suggestions would be most welcome and appreciated.
2nd Sunday of Advent