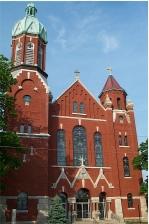 We would like to dedicate this web site to those who have gone before us, those who will follow us, and those today who strive to make this a holy and happy parish family.
We are now registering for our new Pictorial Directory.  You can sign-up after every Mass in the back of Church to get the dates and times available.  We ask that every family please take time to sign-up.  We would love to have 100 % participation!!
Our Bishop's Annual Appeal will begin the weekend of September 23/24 and run until early November.  Please be generous as these monies help support our Diocesan programs.  Any monies over our goal will be returned to the parish.
Our Religious Education (CCD) will begin September 10, 2017 from 8:45-9:45 am.  As we begin a new year here is a prayer for our Catechists to say daily:
O Lord, God Almighty, Ruler of all things, bless the work of the Confraternity of Christian Doctrine (CCD).  Grant that this work may be done for Your honor and glory, and most fruitfully spread the Kingdom of God through Jesus Christ, our Lord, and with the help of the Holy Spirit.  Amen.  (Leo A. Pursley, D.D. – April 22, 1959)
And for all of our students preparing for the Sacrament of Confirmation here is a prayer you can say daily:
O Holy Spirit of God; take me as Thy disciple.  Guide me, illuminate me, sanctify me.  Bind my hands that they may do no evil.  Cover my eyes that they may see it no more.  Sanctify my heart that evil may not dwell within me.Be Thou my God.  Be Thou my guide.  Whatsoever Thou forbiddest me I will renounce.  And whatsoever Thou commandest me, in Thy strength I will do.  Lead me then unto the fullness of Thy truth.  Amen.