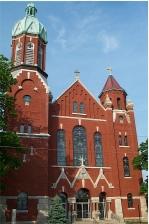 We would like to dedicate this web site to those who have gone before us, those who will follow us, and those today who strive to make this a holy and happy parish family.
New to our Parish?  Call the rectory at 356-4398 and press option 3 for Pat our secretary and she will get you registered!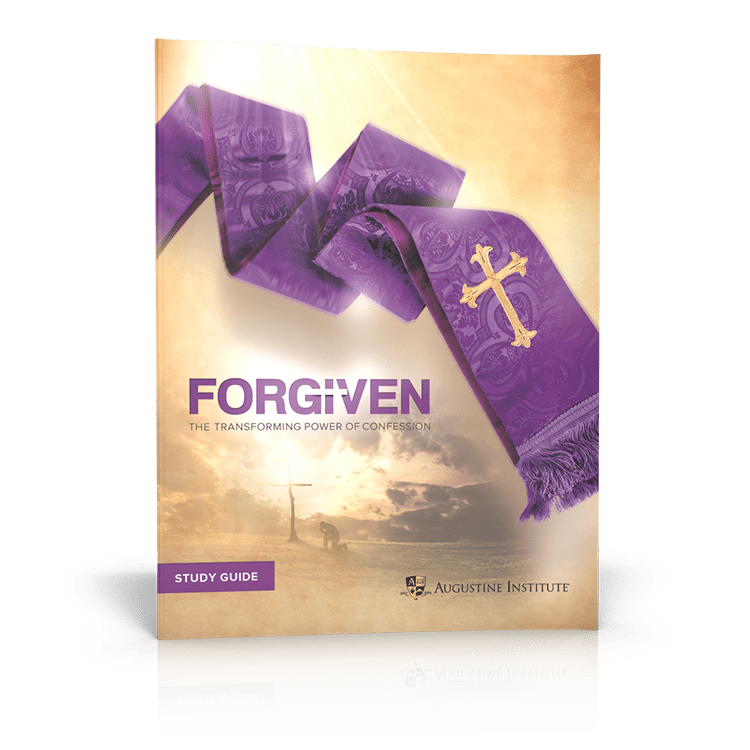 Starting March 1, 2018, Drew Stuart will be offering Forgiven: The Transforming Power of Confession, a video study series on the Sacrament of Confession.  These will take place each Thursday during Lent in Assumption Hall from 6:30-7:30 p.m.  For further information or questions, please contact Drew at 260-224-0522 or email him at: drew.a.g.stuart@gmail.com
LENTEN COMMUNAL PENANCE SERVICE WILL BE HERE AT SAINT MARY'S ON MARCH 19, 2018 BEGINNING AT 6:00 P.M.
SAINT MARY FACEBOOK PAGE:  Well, we have started a Church Facebook page.  We are very, very new to all of this so please be patient.  When you go to Facebook search for Saint Mary Catholic Church and you should be able to see us.  As we learn more about how to use this we will post items there as well as here.  Any suggestions would be most welcome and appreciated.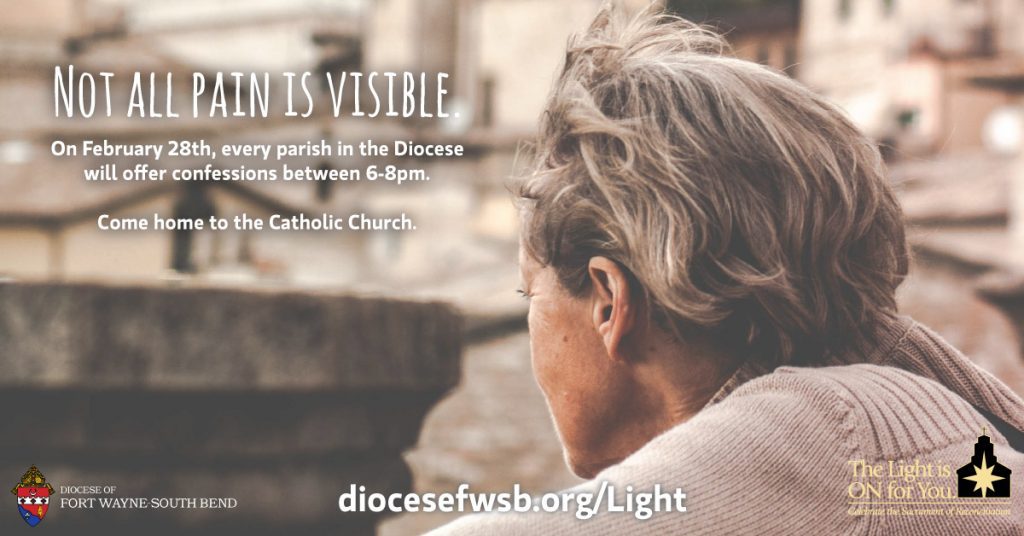 This year in parishes across the Diocese of Fort Wayne-South Bend, the Sacrament of Reconciliation and time for prayer will be held on Wednesday, February 28 from 6:00-8:00 p.m.  Consider making a commitment this Lent to join the Church in praying for an abundance of the healing grace of God's forgiveness and love.  Learn more at www.diocesefwsb.org/Light .
Think to yourself:  how long has it been since you last received the mercy of the Father through the Sacrament of Reconciliation?  In the Catholic Church, we have the unique and beautiful gift of the assurance of forgiveness and reconciliation with God through the Sacrament.  If you need God's healing and forgiveness why not visit the confessional on Feb. 28th.
CIA News: 
March 4 – Free Skating Party – 5-7 p.m.  This event is free to all Catholic Parishioners and guests of the county, no matter how old or young.  Please register via Facebook on Goodgle Doc or Event Page.
March 6th – All youth in grades 5-12 are invited to come to the Parish Center at SSPP from 3-6 p.m.  Then at 6:30 p.m. there will be an Ecumenical Prayer Service.  Parents are encouraged to attend with the youth.
March 11 – 5-8 p.m. (place TBD) – Watch our Lenten Movie: Mary of Nazareth.  Bring a snack or drink and a comfy chair.  Parents are welcome to view movie with their Youth.  This movie is told from Mary's perspective.  To think what all she went through as a mother is heartbreaking, but full of love and devotion.