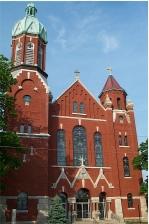 We would like to dedicate this web site to those who have gone before us, those who will follow us, and those today who strive to make this a holy and happy parish family.
WEEKDAY CONFESSIONS: Fr. Steve asked me to change the morning Confessions to BEFORE daily Mass from 7:30 – 7:50 am.
THE BEATIFICATION MASS FOR FR. SOLANUS will be held at St. Felix Center on November 18th beginning at 1:00 p.m. Most Reverend Kevin C. Rhoades will be officiating.
EUCHARISTIC ADORATION is here at Saint Mary every Friday from 6 a.m. – 6 p.m. Please consider giving an hour of our time to Jesus. The world needs our prayers and what better way to show our love then to pray in the presence of Our Lord. We especially need more coordinators for the 10-11 a.m. and 11-12 Noon time slots. If you would be interested or would like to learn more please contact Kathy VanGilder at 356-4460.
Weekly Reading Small Group here at St. Mary every Sunday evening from 6:30-7:30 p.m. Each week we delve deeper into the theology and background of the Sunday Mass readings and discuss how they apply to our lives today. All are welcome to attend. If you have any questions, contact Drew Stuart at drew.a.stuart@yahoo.com.
SYMBOLON: KNOWING THE CATHOLIC FAITH: SS. Peter & Paul will be launching an Adult Faith Formation program called Symbolon: Knowing the Catholic Faith Explained. Symbolon provides an overview of our faith and includes video presentations by many great Catholic speakers such as Dr. Edward Sri, Dr. Tim Gray, Curtis Martin, Leah Darrow, Chris Stefanick, and Fr. Leo Patalinghug. These videos will be followed by a group discussion. On session will be offered each week at two separate times: Monday mornings from 8:45-10:15 a.m. and Tuesday evenings from 7:40-9 p.m. in Gollner Hall. We hope you will join us! If you have any questions, please contact Drew Stuart at dstuart.sspp@gmail.com.
CATHOLICS IN ACTION YOUTH GROUP  
November 19 Youth Group will meet at Victory Noll from 5-8 p.m.
November 26 Youth Group will meet at the Primary Building for Open Gym and Game Night.
November 27 4th Sunday Service to Others Meal Ministry from 5:30-7:30 – Sign up with Courtney
November 29 Youth Advisory Board Meeting at 6 p/m. at the Parish Center
SAINT MARY FACEBOOK PAGE:  Well, we have started a Church Facebook page.  We are very, very new to all of this so please be patient.  When you go to Facebook search for Saint Mary Catholic Church and you should be able to see us.  As we learn more about how to use this we will post items there as well as here.  Any suggestions would be most welcome and appreciated.