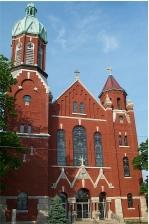 We would like to dedicate this web site to those who have gone before us, those who will follow us, and those today who strive to make this a holy and happy parish family.
New to our Parish?  Call the rectory at 356-4398 and press option 3 for Pat our secretary and she will get you registered!
 THE MESSIAH CONCERT WILL BE PERFORMED HERE AT SAINT MARY
SUNDAY, DECEMBER 2 AT 7:30 P.M.