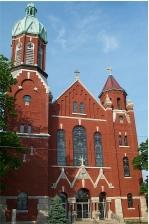 We would like to dedicate this web site to those who have gone before us, those who will follow us, and those today who strive to make this a holy and happy parish family.
New to our Parish?  Call the rectory at 356-4398 and press option 3 for Pat our secretary and she will get you registered!
EPIPHANY
All they from Saba shall come, bringing gold and frankincense, and showing forth praise to the Lord.
We have seen His star in the East.
And are come with gifts to adore the Lord.
Let us Pray
O God, Who by the leading of a star did on this day manifest your only-begotten Son to the Gentiles,
mercifully grant that we, who know You now by faith,
may be brought to the contemplation of Your glorious majesty.
Through the same Christ our Lord.  Amen.